Welcome To The Vajrayana Research Resource
The Vajrayana Research Resource
This website is meant to be a resource for researchers and scholars interested in the Vajrayana tradition. It will also feature information on closely related traditions such as the Natha sampradaya and non-dual Saivism. There will be an archive of digital documents consisting primarily of scholarly articles, dissertations, and (to a limited extent) practice materials.
These articles have been archived for private study, scholarship, or research. Under no circumstances are any of these documents to be sold or used for commercial purposes. Nor should any of these materials be reproduced and distributed. Although there are some public domain materials here, most documents are subject to
copyright law.
It is the responsibility of individuals to make sure that their use of this site, and the materials contained on it, is in compliance with copyright law. The materials archived here are not to be used for any purpose other than private study, scholarship, or research.
If you agree to only use the materials here for private study, scholarship, or research please visit
The Archive
Warning: Traditionally, some of these materials would only be available for viewing after the requisite empowerment or permission by a qualified teacher of the lineage. Many teachers regard reading such material without empowerment or permission as potentially harmful.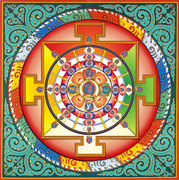 What's Here?
You can find materials containing substantial translations from the Mahakala-Tantra, Chakrasamvara-Tantra, Chandamaharosana-Tantra, Samputa-Tantra, Abhidhanottara-Tantra, Kalachakra-Tantra and Pundarika's Vimalaprabha. Wedemeyer's dissertation has English translations of many of the works of Aryadeva on the Guhyasamaja Tradition. These include Aryadeva's Caryamelapaka-pradipa, Cittavisuddhiprakarana, Svadhisthana-prabheda, and the Abhibodhikramopadesa. There is also material on the Guhyagarbha-Tantra, Tattvasamgraha-Tantra and the Samaja-Vidya-Sutra.

Additionally, there is material on the use of medicinal substances in Indo-Tibetan tantra and an article on the Indo-Tibetan model of psychopharmocology etc.